Semana Santa is nearly here. We are busy and booking up for the entire week. Juan Carlos and team recently cleaned up the entire property and we are recovering the pool lounge cushions. The entire VDP team is working hard to improve the guest experience.
We're promoting favorite dinners in the restaurant with emails and encouraging local people to enjoy the Semana Santa specials before the crowds arrive at the beaches. Check our Villas de Palermo blog to keep up with weekly hotel news.
Please use Juan Carlos' new email address–gerente@villasdepalermo.com–to contact him.  You can also use JuanCarlos@villasdepalermo.com.   He is happy to help you with issues or concerns you have about your villa.
We're encouraging guests to use Facebook Check-In when they arrive at the Terraza de Palermo restaurant.  We offer a free drink from the bar or espresso bar in exchange for guests sharing their location with their Facebook friends. Thanks to Zaida Almanza and Scott Gemmell for this idea when they clicked check-in last week!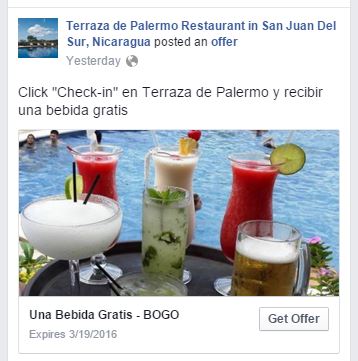 We hope to see you soon at Villas de Palermo. When you visit, enjoy the new discounted food packages as much as our hotel guests are.  You can economically add breakfast, lunch, dinner or all-inclusive to your stay.