All-Inclusive
Come experience the luxury of all-inclusive and leave your wallet at home.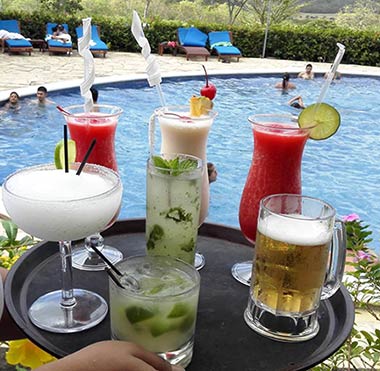 Eating – Experience gourmet dining in a gorgeous tropical setting. Our restaurant offers a blend of local flavors and international specialties. The dining choices vary based upon the season but you can be assured that all of our fruit and vegetables are fresh and local. All Inclusive at Villas de Palermo includes breakfast, lunch, dinner and appetizers daily.
Drinking – Enjoy an open bar with Nicaraguan beer, Nicaraguan rum and non-alcoholic beverages for the duration of your stay. Start your day with a fresh tropical fruit smoothie or fresh coffee brewed from locally grown beans. Lounge by the pool sipping Nicaragua's renowned Flor de Caña rum. Every hour is happy hour with our All Inclusive package.
Click here to view a sample all-inclusive menu. 
All Inclusive Prices
$89 per person including taxes for four adults in a two bedroom villa.
$99 per person including taxes for two adults in a one bedroom villa.
Children 5-12 years old pay $55 including tax.  Any person using an extra bed or crib is charged $25 plus tax.  One extra bed may be added in each villa.
If you have already reserved your stay, you may upgrade to all-inclusive for an additional $35 per person.
*All inclusive rates do not apply to Holidays. They only apply to regular stays and not to discounted rates. They only apply to people already included in the confirmed/payed reservation.

Contact us to inquire about all inclusive packages or click here to book online. 
English Reservations US 1-800-734-3402 or email info@villasdepalermo.com