In partnership with Café Premium Segovia, the new Terraza de Palermo espresso coffee bar serves up hot and cold Café Dipilto drinks. This coffee grows in the northern Nicaraguan Dipilto mountains at an altitude of over 4,592 feet in fertile soil.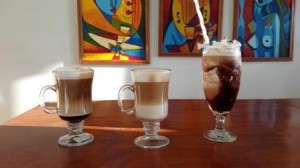 SAN JUAN DEL SUR, Nicaragua – Feb. 6, 2016 – PRLog — Start your day with an espresso drink from the new Terraza de Palermo coffee bar. Hot expresso drinks include Capuccino, Espresso, Americano, Mocaccino, Café Latte and more. Cool off in the afternoon poolside with an ice drink. We suggest an Ice Latte, Special Palermo Mocca Frapuccino, Frappe, Frapuccino or Oreo Frappe. We have your lust for caffeine covered.
Support Nicaraguan Café Premium Segovia coffee farms, where for generations coffee has been planted in the shade of other trees and coffee plantations have become the largest artificial forest in Central America. Shade trees protect coffee plants from strong sunlight and contribute to the production of oxygen in the environment. This habitat is host to thousands of migratory and native birds. Each cup of Dipilto coffee treasures a small part of Nicaraguan ecology, culture and tradition.